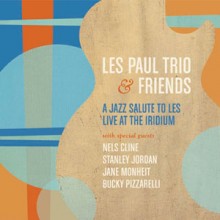 release date:
September 25, 2012
share:
A Jazz Tribute to Les – Live At the Iridium


Produced and Mixed by Doug Yoel


IridiumLive! 001 / UPC - 850749004001
Release Date: 9.25.12
Featuring NELS CLINE, JANE MONHEIT, STANLEY JORDAN and BUCKY PIZZARELLI and Les Paul's Trio - LOU PALLO, NICKI PARROTT and JOHN COLIANNI
The first official document of the on-going Monday night tribute to the great Les Paul. Featuring highlights from fall and winter 2011, this recording features Les Paul's long time backing trio, on their own, and fronted by some very special guests.