Les Paul Trio & Friends: A Jazz Tribute to Les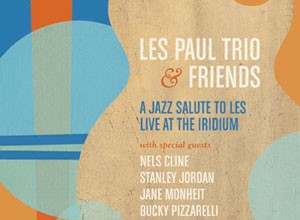 Thanks to many memorable Monday nights, Manhattan's Iridium is widely known as the house that Les Paul built. So it's not surprising that the club should launch its new recording label with a tribute to the late guitar legend. And, of course, it's only fitting that part of the proceeds from album sales will benefit the Les Paul Foundation's efforts to support "music education, engineering and innovation."
While a remarkably wide array of artists sat in with Paul at the Iridium over the years, these recordings post-date his 2009 passing and feature his namesake trio—guitarist Lou Pallo, pianist John Colianni and bassist-vocalist Nicki Parrott—performing alone and with guests. The trio-plus-one collaborations, though enjoyable, are pretty much what you'd expect coming from Jane Monheit (a breezy "East of the Sun [West of the Moon]") and Nels Cline (the now entrancing, now jarring "A.I.R. [All India Radio]"). The teaming of Stanley Jordan and Bucky Pizzarelli on "Body and Soul," however, is something special, a cross-generational treat that would have delighted Paul.
As for the trio performances, they consistently pay off, starting with an ebullient, instantly Paul-evoking take on "Brazil." Each member of the group has a winning turn—or two, as in the case of Parrott, who vocally interprets "How High the Moon" and Bob Dylan's "I'll Be Your Baby Tonight." Pallo and Colianni are particularly well matched, always resourceful and sometimes appropriately dynamic. Which is why A Jazz Tribute to Les is really more than its title suggests. It's also a reminder that Monday nights at the Iridium are still worth checking out.
Article posted as reviewed in the Jazz Times.